For Memorial Day we had a picnic in our backyard of chicken, potato salad and green salad. For dessert we had oatmeal scotchies (cookies). Do you like our Halloween tablecloth? We talked about all the great Memorial Day bar-b-q's that Page's parents used to host when we were younger. They would invite friends and family over for a big spread. Ours was a little smaller- just the three of us (Page, Lacey and me). Sean is probably eating buffalo burgers in Montana.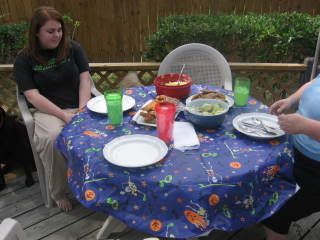 After dinner I talked Lacey into going on a hike with me up at the Stephen F. Austin Interpretive Trail in Nacogdoches. It wasn't too hot today and no humidity so I thought this would be a nice afternoon to go walking. The trail was very peaceful. We were the only ones on it.
Here is Lacey by the creek. I wonder who she is thinking about with those lips puckered like that?......
And here is the old guy trying to get some excercise while enjoying the great outdoors. I really enjoyed hiking with Lacey. The only animals we saw were some dragonflies, other bugs, and a couple lizards. We took the short one mile trail. Maybe we will try the advanced trail sometime.