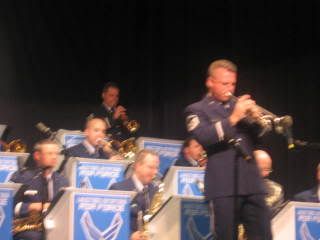 Lacey and I went to a free concert last night (Friday) to see the Air Force Jazz Band. It was like going back to the 40's. I played the Tenor Sax in school and played some of that same music... ahhh the memories! The highlight was when the trumpet player (above) put the horn down and sang a Sinatra song- "You make me feel so young". My toe was tapping and I had a good time.
We were in a high school auditorium. The seat in front of me had a little message. I guess BB really really really loves LB !!!
It was interesting to see the female jazz singer getting into the music while still in AF uniform. Didn't seem to fit, but hey, these folks were talented. They tour all over AZ, NM, TX and LA. After the concert, Lacey and I headed over to Sonic for some treats.