Ive been in the hospital since yesterday morning! Tuesday night I started to feel really sick. The stomach flu has been going through town, and I guess I got it. I started throwing up Tuesday evening and continued through out the night. Then at about 6 a.m. Wed. morning I was in the bathroom throwing up and the next thing I remember, Page is standing over me yelling my name. I blacked out and landed on the tile floor, splitting my face open. Blood was everywhere. I guess I was out for a little bit. This happened to me about a year ago in Montana, so we decided to go to the hospital. We also thought I might need stitches. Well, they decided to admit me into the hospital. I'm still really tired, but after breakfast today, I didn't throw up so they decided to send me home. Everybody was really helpful and nice, but it is sure good to be home.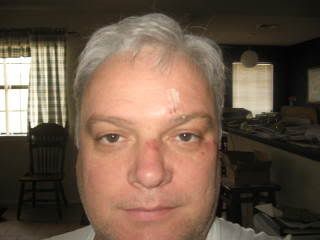 Here is a picture of my face. I haven't shaved yet, but you can see the bandaged cut above my head and the cut on my nose and side of my eye. It was really swollen yesterday, and is looking much better today. I might have a small scar. (now I have to come up with an interesting story about how I got it....). I think I'm going to stay home the rest of the week and take it easy.
Page stayed with me all morning in the ER, bless her heart. Sean came up after school on his own to see me and Page and Lacey stopped by last night. The Bishop also came by after Mutual. One of the doctors I work for also stopped to see how I was doing and a couple of her nurses. Page's parents and my Mom called me from California. It was kind of nice to be pampered and have people concerned. I know I gave Page a fright when she heard a crash and found me blacked out on the floor with my head bleeding. I guess I will do anything for attention. But I am doing a lot better now after drinking 2 IV bags full of potassium.