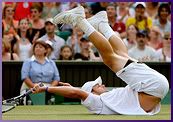 Andy! nooooooo! He loses in the 3rd round of Wimbledon to another Andy, the Scot, Andy Murray. Andy has been having one of his worse years ever. When is he going to turn it around? I did get to see him win his match in Houston this Spring. One of his few wins, I guess. Hey, I still stand by Roddick. But that picture says it all....
Agassi lost to Nadal today too. Ok, Roddick is my favorite tennis player, but Nadal comes in second (got to back the Spaniard!). But I do have to say it was sad to see Agassi lose and end his Wimbledon career. I thought he would win this match since Nadal has been poor on grass courts, but Nadal was amazing. The fans gave Agassi a standing ovation, and even Nadal said "It's Agassi's Day"- what class!
I watched Portugal beat England in the World Cup quarter finals and then the UNBELIEVABLE... I saw France beat Brazil. Nobody saw that coming, not even the French.... but now I know why Spain lost.... the French are THAT good!