Well today is my twin brother, Pat's birthday. He is way out in Califorrnia so I wasn't able to hang out with him, so I did the next best thing and tried to celebrate his birthday here in Texas. First, one of my clinics was nice enough to celebrate his birthday by throwing a surprise party - of course, I had to step in for him since he couldn't make it. Page and Lacey were hiding in the clinic too for the surprise. We had fun celebrating his birthday with a lunch in the office.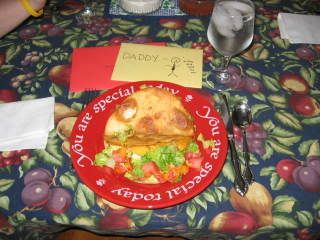 When I got home after work, Page made tacos. Pat, they were good, sorry you couldn't make it to your birthday dinner, but I stepped in for ya! The tacos were delicious.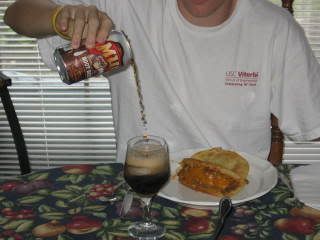 Sean wanted me to take a picture of him pouring his drink in a glass and I was happy to oblige. Lacey chopped up the tomatoes for the tacos. She didn't know she was supposed to take the stickers off the produce before she cut it up and served it.
I got phone calls from Karie, my good friend that I've known since I was a kid who now lives in Utah. I also got a call from my Mom and my twin brother, Pat. He wanted to make sure I remembered it was his birthday. I did! In fact I have been celebrating it for him all day! Happy Birthday, Patrick.