25 years ago today I kissed Page for the first time. We were at Disneyland on an old ride that pretended to shrink you to the size of a molecule (where Star Tours is now), I think it was called the Monsanto. It was a slow and dark ride, known as a "make out" ride. I remember I was so nervous, but I wanted to kiss her so bad. While on the ride, I got up enough nerve to lean over and kiss her. I know it was the most horrible kiss in the world, but for me I was in heaven. I kept kissing her through the ride. I guess we became a pair at that point. I had only kissed two other girls in my life, only one time each, and not as passionately as I kissed Page on that ride, so I didn't have a lot of experience. Page was everything I wanted in a woman. She was beautiful, confident, strong in the gospel, and fun. I guess she liked the kiss enough to hang around. We dated for 6 months until I was leaving for my mission to Spain.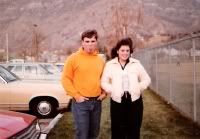 Here is a picture of Page and me in Provo as I went to the Missionary Training Center preparing to go to Spain. I didn't ask her to wait for me because I was so afraid of a "Dear John" letter. But she wrote me every week and was waiting for me when I got back. A year after I got home we were married in the Los Angeles Temple and life has been an amazing experience with Page in it. We have two great children and I can't imagine my life without her.
I liked her way before that wonderful day at Disneyland and I was a little shy and timid, but something happened to me 25 years ago today when we were on that dark slow ride, just me and her. Something told me to "go for it" and I'm glad I did. April 18 is one of those red letter days. Who could have guessed that 3 years and 10 days later we would be married. I love you Page.
p.s. Don't we look great in that picture? Ahhhh to be young again. Can you beliveve we were the same age in that picture as Lacey is today?