USC 32 Michigan 18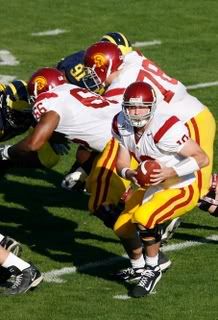 USC came back and showed us what this team is made of! After the UCLA defeat, many had written off the Trojans and didn't give us a chance against #3 Michigan. In fact we had fallen from #2 to #8 before the game. The first half was a defensive battle with a 3-3 score at half time. The second half we lit up the sky with pass after pass from John David Booty. He connected to Jarett in a lot of clutch situations. Many are predicting we will be pre-seaon #1 and may meet Michigan again in next years Championship Game. It was a great Trojan Day. It was good to see us win in the Rose Bowl again.
Despite how great USC did yesterday, the team of the Day was Boise State. I just happened to turn on the game during the last quarter. I couldn't beleive they were beating Oklahoma. Then Oklahoma came on fast and tied the game in very dramatic fashion, with about a minute to go. Then Bosie throws an interception and Oklahoma takes the lead. Ok, game is over, Oklahoma pulls it out..... no so fast Bronco! Some how Boise State keeps it's composure and throws a trick play, a hook and ladder, and it works! Boise scores and ties the game. Now they go into over time and Oklahoma scores a TD pretty fast. Boise takes over and soon it's 4th down and 18 yards to go, and I figure they are toast, yet they throw into the endzone for a touch down. Now they decide to go for it all and go for a two point conversion instead of playing it safe and tying it with a field goal to go into OT #2. The play is a fake statue of liberty play, another trick play, and it catches Oklahoma off guard and Boise State wins.
Like I said, I was happy for USC, but the Fiesta Bowl stole the show today. Except for what happened with a certain USC Song Girl......