Page and I got to get away for an early weekend and ended up in Cody and Powell, Wyoming on Thursday through Saturday. The Big Horn Basin is an interesting place. It was settled by Mormon pioneers and it still has a large Mormon population. We saw a few LDS churches and a Visitors Center.

Here is Heart Mountain, a popular landmark near Powell, WY. The air was hazy due to the big wildfires in Montana.
Here was a cool sculpture of Buffalo Bill Cody in Cody, WY
We were suprised to see Nephi's bookstore in Cody, WY. It had lot of scrapbooking supplies, and upstairs LDS books.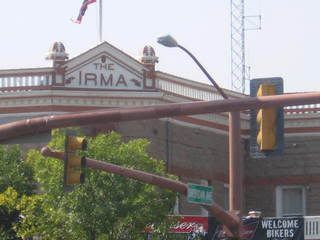 Here is a historic hotel in Cody, The Irma. Irma was Buffalo Bill's daughter.
We flew in and out of the Cody/Yellowstone Airport. I was expecting it to be the size of Bozeman, but it was only a quarter of the size. Very small, but the TSA employees were very diligent. They went through every bag and inspected ever piece of undergarment in people's suitcases. There were a few embarassed passengers.
this is a picture of the saloon in The Irma. Original bar that Buffalo Bill installed. Now it is a cafe, and we had a nice lunch before we headed back to Texas.